LDP
ABOUT THE PROGRAM
APVRS Leadership Development Program (LDP)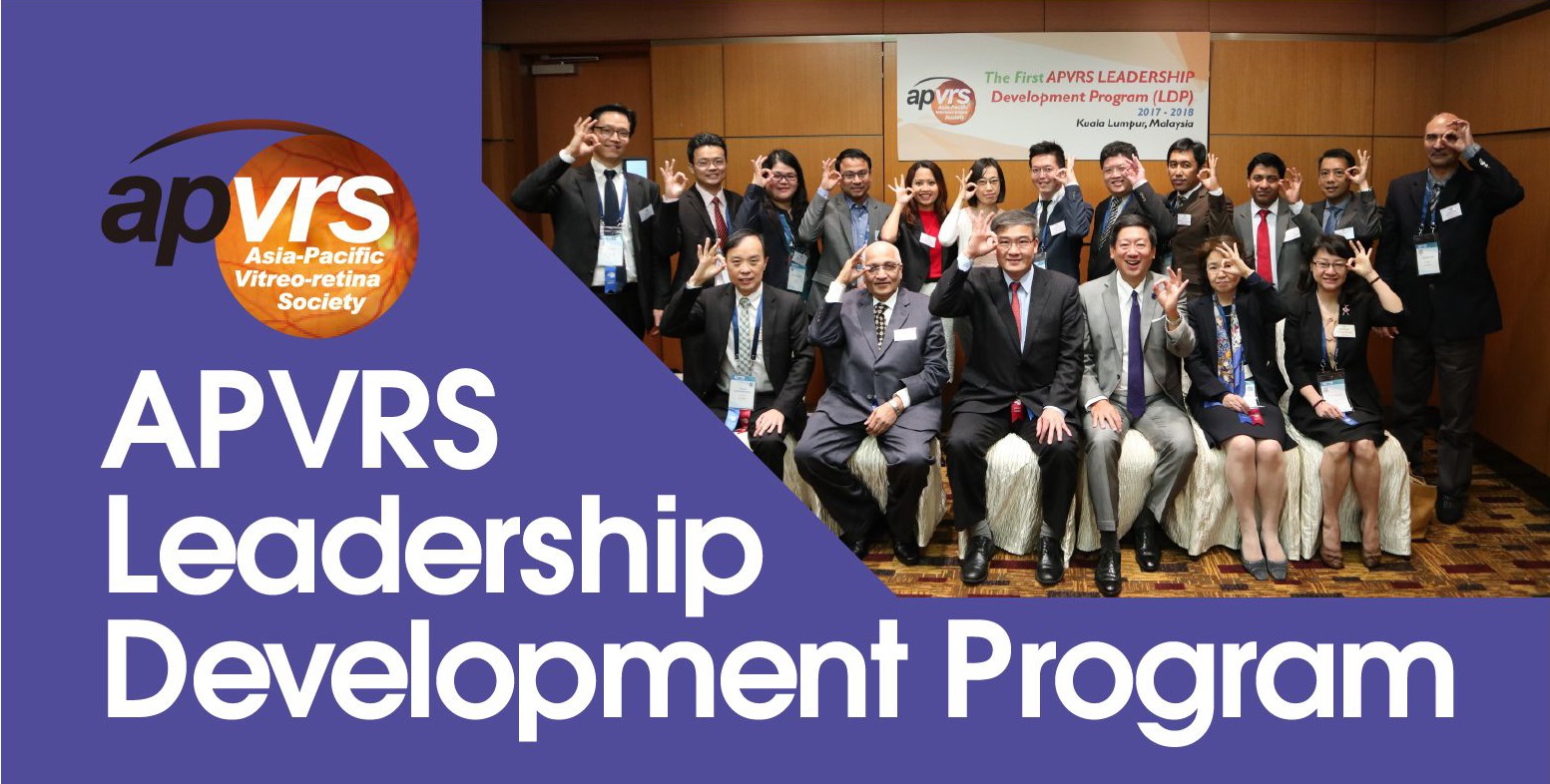 The APVRS Leadership Development Program (LDP) has been conducted annually since 2017. Directed by Prof Dennis Lam, the LDP aims to provide systematic orientation for cultivating future leaders in the vitreoretinal field of the Asia-Pacific region through workshops, one-on-one mentorship scheme and panel discussions.
Benefits
Induction and Orientation
This 1-day program during the APVRS Congress will introduce participants to program faculty. The program will also cover in-depth aspects of leadership development including communication skills, project management, advocacy and teamwork.
Self-initiated Project
Participants must complete a self-initiated project and make a presentation at the graduation.
One-on-one Mentorship Scheme
Participants will each be assigned a Mentor, who will oversee their development and progress during the program. Partici­pants may have a chance to have a one-week on-site visit at Mentors' workplace, allowing them to have close encounters and interaction with their Mentors, as well as close observation of their work.
Graduation
Participants who have successfully and satisfactorily completed all elements of the Program will be formally recognized during the second APVRS Congress and awarded a Certificate of Achievement of the APVRS LDP Based on individual per­formance, participants may also receive Gold, Silver and Bronze awards.
Application
Each APVRS Council Member, national vitreoretinal and ophthalmological organizations may submit one nomination for consideration by the LDP Selection Committee. Individual applications will not be accepted. The nominee should fulfil the following criteria:
Be aged 50 or below
Agree to participate in all elements of the LDP
Visionary future leaders with passion and determination to serve the vitreoretinal profession and community
Qualified eye doctors
Highly proficient in English
Application and selection are scheduled 6 months before the next APVRS Congress. For more information about the APVRS LDP, please contact our Executive Officer, Winnie Ho at winnieho@apvrs.org.
Class IV (2020 - 2021)
Rachelle Go Ang Sam Anzures
Philippines
Sanjeewa Kaluarachchi
Sri Lanka
Supalert Prakhunhungsit
Thailand
Ta-Ching Chen
Chinese Taipei
Bhavik Uttam Panchal
India
Class III (2019 - 2020)
Jubaida Aquino
Philippines
Mario Marbungaran Hutapea
Indonesia
De-Kuang Hwang
Chinese Taipei
Tengku Ain Kamalden
Malaysia
Christopher Lee
South Korea
Duangnate Rojanaporn
Thailand
Class II (2018 - 2019)
Lyll Karen Bigornia-Arriola
Philippines
Andi Muhammad Ichsan
Indonesia
Nor Azita Ahmad Tarmidzi
Malaysia
Kelvin Yi-Chong Teo
Singapore
Ling Yeung
Chinese Taipei
Class I (2017 - 2018)
Referano Agustiawan
Indonesia
Wantanee Dangboon
Thailand
Mangala Dhanapala
Sri Lanka
Yi-Ting Hsieh
Chinese Taipei
Eleonore Iguban
Philippines